---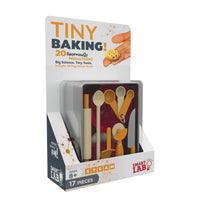 Smart Lab Toys - Tiny Baking
Smart Lab
Tiny Baking!
20 Enormously Delicious Recipes - Big Science. Tiny Tools. Includes 48-Page Recipe Book!
Bake itty-bitty sweet treats and savory specialties using miniaturized baking tools and scaled-down recipes while learning big science facts!
With tiny culinary tools—including silicone finger mitts!—and recipes for teensy portions, kids will make petite versions of cupcakes, layer cakes, corn muffins, cinnamon rolls, deep dish pizza, and more as they explore the science and history behind chemical and thermal reactions, nutrition, states of matter in cooking and baking, and discover what turns gooey batter into melt-in-your-mouth cake. Science concepts include the Maillard reaction, pH, the importance of egg proteins in baking, and when to use different types of leavenings. Tiny Baking! gets an "A" for adorable! 

Real food. Real science. Real fun!

 

Bake itty-bitty pies, cupcakes, pastries, and pizzas using teeny-tiny tools and pans; learn why cakes rise, eggs get solid, and cookies smell delicious; baking set fits into an 5.2 x 3.4 x 2.2-inch tin to easily take to grandma's house or a sleepover
17-piece tiny baking set includes:

 

Storage tin with top, rolling pin, wee-knife, pizza/dough cutter, mixing spoon, 3 wee-spoons, mixing bowl, pizza/pie pan, pie server, sheet pan, silicone cake & cupcake molds, 2 silicone finger mitts, 48-page recipe book; recipes require household ingredients not included in this kit
48-page recipe book explains the science behind the yum:

 

Tried-and-true recipes include explanations of how food chemistry works, like how the acid and base in baking powder start a reaction when liquid is added, producing gas bubbles to cause the batter to rise
20 enormously delicious recipes:

 

Easy Teeny Frittata, Vanilla Cupcakes, Double-Decker Chocolate Cake, Buttercream Frosting, Chocolate Chip Cook-wees, Lattice-Crust Fruit Pie, Bits o' Bacon Quiche, Deep Dish Pizza, Silly Little Monkey Bread Pie, and more
Perfect for budding food scientists 8+ years
Contents
Includes:
Storage Tin
Rolling Pin
3 Wee-Spoons
Wee-Knife
Pizza/Dough Cutter
Mixing Spoon
Mixing Bowl
Metal Pizza/Pie Pan
Pie Server
Metal Sheet Pan
Silicone Cake & Cupcake Molds
2 Silicone Finger Mitts
48-Page Illustrated Recipe Book
Age 8-14
Item: 860009347366