---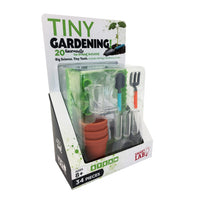 Smart Lab Toys - Tiny Gardening
Smart Lab
Tiny Gardening!
20 Enormously Fun Growing Activities! Big Science. Tiny Tools. Includes 48-Page Gardening Guide! 34 Pieces
Enjoy gardening at your fingertips with a miniature desktop greenhouse and tiny gardening tools!
All you add are soil, water, and your choice of seeds. Within days of being planted in the teeny tiny flower pots, seedlings emerge and thrive in the self-watering greenhouse. The included 48-page illustrated science activity book is filled with experiments that will thrill any young botanist. Learn about the plant life cycle, extract DNA from fruit, and discover the effects of acid rain, gravity, and colored light waves on plant growth. Watch plants breathe, bend toward the sun, and pull water from their roots to their tips. Young environmentalists will see with their own eyes how plants take in carbon dioxide and release oxygen, playing an essential role in making our planet habitable.
Growing and nurturing seedlings in the tiny greenhouse inspires creativity, responsibility, and a lifelong wonder of nature. As children test and experiment, they're practicing essential skills in reading, measuring, following instructions, and trial-and-error learning. As an innovative STEM activity kit, Tiny Gardening! gets two green thumbs up! 
World's smallest gardening kit, big science concepts:

 

Kids can enjoy gardening at their fingertips with a miniature desktop greenhouse and tiny gardening tools while exploring science principles like capillary action, photosynthesis, transpiration, and phototropism
34-piece set includes:

 

Tiny greenhouse, 3 tiny pots, 3 tiny test tubes, tiny hand shovel, tiny hand fork, tiny beaker, 3 tiny garden markers, greenhouse wall panels, greenhouse roof panels, string, tiny ruler, petri dish, green and blue acetate sheets, decorative clings, marker stickers, and a 48-page tiny gardening activity book
48-page illustrated science activity book explores the science behind the fun:

 

Young botanists learn and grow alongside their plants, answering questions like: Why do seeds grow up instead of down? Does pH value of water affect plant growth? Do plants respond to color? And much more!
20 enormously fun growing activities:

 

Learn about the plant life cycle, extract DNA from fruit, and discover the effects of acid rain, gravity, and colored light waves on plant growth; watch plants soak up CO2 and release oxygen, bend toward the sun, and pull water from their roots to their tips
Just add soil, water, and your choice of seeds:

 

No need to worry about seed shelf life; grow and experiment with whatever seeds you choose, including beans and lentils from your kitchen cabinet or seed packets you can easily find at the grocery store or online
Perfect for budding botanists ages 8+
Contents
Includes: 
8-Piece Tiny Greenhouse
3 Tiny Pots
3 Tiny Test Tubes
Tiny Hand Shovel
Tiny Hand Fork
Tiny Beaker
3 Tiny Garden Markers
Printed Greenhouse Wall Panels
Printed Greenhouse Roof Panels
String
Tiny Ruler
Tiny Petri Dish
Green and Blue Acetate Sheets
Decorative Clings
Marker Stickers
48-Page Illustrated Gardening Science and Activity Book
Age 8-14
Item: 860009347311